Why Facebook and Google Analytics data do not match?

Following are the top reasons, why your Facebook and Google Analytics do not match:

#1 Facebook ad Clicks and Google Analytics Sessions are fundamentally different metrics

There is always a very strong probability that the number of Facebook ad clicks do not match with the number of resulting Google Analytics sessions.

This is because Facebook ad 'clicks' and Google Analytics 'sessions' are fundamentally different metrics.

A click is a hit (user's interaction) with Facebook ad.

Whereas a GA session is a group of hits recorded for a user in a given time period.

On top of that, Facebook track 'clicks' whereas Google Analytics track ' sessions'.

#2 Google Analytics tracking code did not fire on landing pages

Whenever Google Analytics tracking code does not fire for some reason on the landing page of an Facebook ad, Google Analytics does not track session resulted from an ad click but Facebook will still track and report the ad click.

Google Analytics tracking code may not fire under following situations:

the tracking code is not valid
the tracking code is missing
the tracking code is valid but did not fire because of some client/server side issue.

#3 Google Analytics treated some of the Facebook traffic as direct traffic

Lot of people access Facebook via mobile apps.

And it is quite common for mobile apps, not to pass referrer data.

Whenever the referrer data is not passed, the traffic is treated as direct traffic by Google Analytics.

#4 Fundamental difference between Facebook and Google Analytics attribution modelling

By default Google Analytics attribution modelling is based on single device and single browser.

Once a user changes his device/browser, GA treats him as a new user.

This is not the case with Facebook whose attribution modelling is based on multiple devices and multiple browsers.

Since you can not use Facebook without login in.

It can effectively track users across devices and browsers, thus providing very robust cross device tracking.

Other than that, Facebook uses the last Facebook ad click/view attribution model which gives 100% credit for the conversion to the last ad click or last ad viewed by a user (whichever comes later).

It completely ignores the role of other marketing channels in a conversion path.

Because of this reason , the Facebook sales data reported by Google Analytics could be significantly different from the sales data reported by Facebook.

Related Article: Here is why Facebook Sales and Conversion data is a lie and will make you Cry

#5 Google Analytics data sampling issues

Your Google Analytics data is only as accurate as the amount of traffic data not being sampled.

If GA is sampling your data badly, then the reported metrics could be 10 to 80% of the mark.

In that case you can't trust the data reported by GA and certainly can't compare it with the Facebook data.

Any such comparison, can result in making wrong marketing decisions and even loosing money.

Related Articles

Most Popular E-Books from OptimizeSmart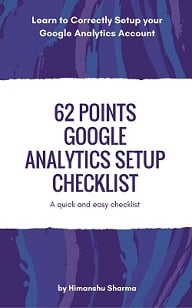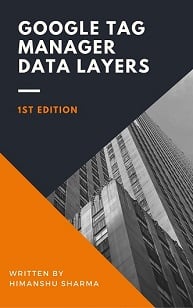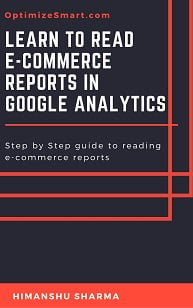 How to learn and master Web Analytics and Google Analytics?
Take the Course
Check out my best selling books on Web Analytics and Conversion Optimization on Amazon
How to get lot more useful information?
I share lot more useful information on Web Analytics and Google Analytics on LinkedIn then I can via any other medium. So there is really an incentive for you, to follow me there.